Contact Sue for more information: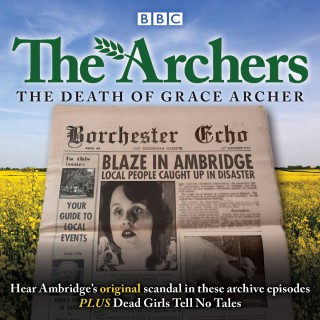 Download press release
The Death of Grace Archer
Audiobook
The legendary demise of Phil Archer's first wife is recalled in these archive editions of the much-loved BBC radio serial, plus a unique behind-the-scenes drama about Grace's death.
The Archers is the longest-running radio drama in the world, and in 1955 the death of Grace Archer became one of the most notorious – and controversial – events in the history of the show. Over 20 million people tuned in to hear the shocking storyline, and the BBC switchboard was jammed with thousands of calls from distraught listeners.
This Archers retrospective includes the omnibus edition from September 1955, featuring the fateful night of Grace's demise, and two editions of Vintage Archers from 1986 and 1987 in which the residents of Ambridge – including Jill, Walter, Tom, Shula and Christine – gather at Christmas and remember events of the past.
Finally, in the 2015 radio play Dead Girls Tell No Tales, the real-life circumstances of Grace's departure from the serial are dramatised by long-term Archers writer Joanna Toye. With a star cast including Eleanor Tomlinson (Demelza in Poldark), Simon Russell Beale, Ysanne Churchman, Jon Culshaw, Pam Ferris and Miles Jupp, it delves deep into The Archers' archives to reveal the truth about why Grace had to die.