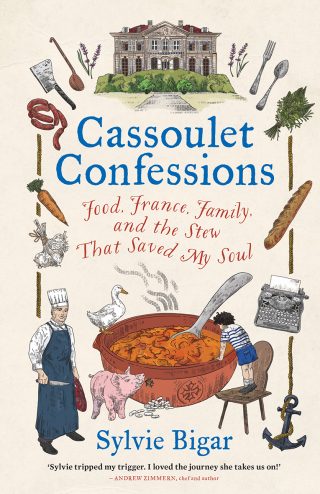 Download press release
Cassoulet Confessions
Food, France, Family, and the Stew That Saved My Soul
Published by Hardie Grant on 15 September 2022, Hardback, £16.99
 'Cassoulet Confessions' is an enthralling memoir by award-winning food and travel writer Sylvie Bigar that reveals how a simple journalistic assignment sparked a culinary obsession and transcended into a quest for identity. Set in the stunning southern French countryside, this honest and poignant memoir conveys hunger for authentic food and a universal hunger for home.
In 'Cassoulet Confessions', Sylvie travels across the Atlantic from her home in New York to the origin of cassoulet – the Occitanie region of Southern France. There she immerses herself in all things cassoulet: the quintessential historic meat and bean stew. From her first spoonful, she is transported back to her dramatic childhood in Geneva, Switzerland, and finds herself journeying through an unexpected rabbit hole of memories. Not only does she discover the deeper meanings of her ancestral French cuisine, but she is ultimately transformed by having to face her unsettling, complex family history.
Sylvie's simple but poetic prose immerses us in her story: we smell the simmering aromas of French kitchens, empathise with her family dilemmas, and experience her internal struggle to understand and ultimately accept herself.
"In Cassoulet Confessions, New York-based writer Sylvie Bigar charts her journey to understanding and conquering cassoulet, "the slow-cooked carnivorous orgy of pork, lamb, duck, beans and herbs". Her journey takes her to Carcassonne in France, where she interviews the master of cassoulet, chef Eric Garcia of Domaine Balthazar. Captivated, she returns two years later so that he can teach her how to make it. Bigar intersperses this story with an account of growing up in Geneva in the 1970s and her parents' dysfunctional marriage. This is a wonderful read that includes three classic recipes for the hallowed cassoulet at the end. "Fat is flavour. Fat is pleasure," one chef tells her."
Hard to argue with that.
Sydney Morning Herald
"A surprising gift of a book. A great read. You will never think of a cassoulet in the same way."

Bill Buford, bestselling author of 'Heat and Dirt'

"Like its eponymous dish, Cassoulet Confessions is a delicious slow-simmered concoction."

Ann Mah, bestselling author of 'The Lost Vintage' and 'Mastering the Art of French Eating'

"Sylvie is an eloquent writer who fervently weaves her culinary adventures with tasty moments of her life." Daniel Boulud, chef and restaurateur

"Sylvie tripped my trigger. I loved the journey she takes us on!"

Andrew Zimmern, chef and author

"Sylvie's book feeds the mind, spirit and stomach."

Dominique Ansel, chef/owner, Dominique Ansel Bakery