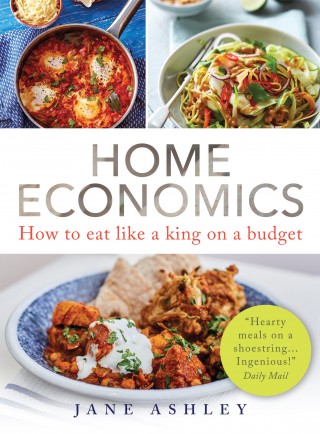 Download press release
Home Economics
How to eat like a king on a budget
Jane Ashley is the real deal – a busy working mum who loves good food whilst striving to balance nutrition and cost.  Speaking to a friend who volunteers at a food bank a few years ago, and learning about the figure of £1 set by the charity 'Live Below the Line', Jane pooled together her family's pounds and set herself the task of feeding them for £3 a day.  Jane decided to write about the challenge and set up her Eat Not Spend blog to ensure that she kept motivated.  Now, two years on, the very best of her tried-and-tested recipes and comprehensive menu plans are published together with fully-costed shopping lists.
As more and more people found out about Jane's blog, the requests for alternative menus flooded in.  She tried various different eating plans including vegetarian weeks, vegan plans and gluten-free menus.  From fried bean tacos to Thai curries, Jane's thrifty meals are easily adapted whether cooking for one or feeding multiple mouths.
'None of the recipes should be too complicated, they just take a bit of effort. I myself couldn't cook until a few years ago so I have tried to make them as simple as I can. I also work full time so I try to do as much prep work for the week ahead at the weekends as possible to save time midweek.'
Budgeting for £35 per week for a family of four, Home Economics gives money-saving tips to show how everyone can feed their family on a varied and healthy diet without breaking the bank.