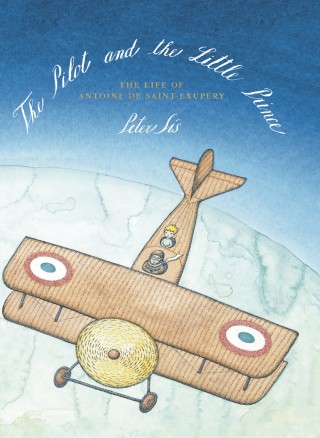 The Pilot and the Little Prince
The Life Of Antoine De Saint Exupéry
The moving and beautifully illustrated life story of Antoine de Saint- Exupéry – an aviator, adventurer, pioneer and war hero, and the author of one of the world's most beloved children's books, The Little Prince.
Insanely popular with over a million copies sold every year, the most-read French-language book in history and translated into 250 languages since its first publication in 1943; The Little Prince is a classic children's story telling the adventures of the boy who fell to earth, The Pilot and The Little Prince celebrates the remarkable story of its author.
ANTOINE DE SAINT-EXUPÉRY was born in France in 1900, when aeroplanes were just being invented. He always dreamt of flying, and when he became a pilot as a young man, his adventures truly began. He was one of the first pilots to deliver mail by plane and, along with his fellow pilots, helped to create new routes to faraway places. Antoine flew over mountains and deserts, battled winds and storms, and even tried to break aviation records. He also crashed a number of times. From his plane he reflected on life on the earth and in the skies, and this inspired him to write about his experiences. Peter Sís's remarkable biography celebrates the author of The Little Prince, one of the world's most beloved books.  July 2014 marks the 70th anniversary of the mysterious disappearance of Antoine de Saint Exupéry.
Born in Czechoslovakia in 1949, PETER SÍS is an internationally renowned author and illustrator of many books for children. He has now received, among many other awards, three Caldecott Honours, the Bologna Ragazzi Nonfiction Award, the Deutscher Jugendliteraturpreis, and the MacArthur Foundation "Genius" Award. He also received the Hans Christian Andersen Award in 2012 for his lasting contribution to children's illustration. He has lived in New York City in America since 1984. A tapestry designed by Peter Sis in memory of Seamus Heaney on behalf of Arts for Amnesty will be unveiled in Dublin in April.
One of the most anticipated books for Spring 2014 

Publishers Weekly

Peter Sís is a genius. That word may be so overused as to be almost meaningless, but I have no other explanation for the seemingly endless depths of his fertile imagination.

Jacqueline Kennedy Onassis

A sumptuous allegory, magnificently drawn, by another poet who has wandered far from his home in order to find his own horizon

Le Monde

None will challenge the beauty of the luminous artwork… a really stunning visual storybook.

The New York TImes

The Pilot and the Little Prince is a thing of beauty for both eye and spirit

Brain Pickings