Contact Sue for more information: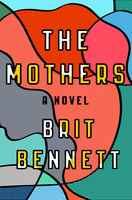 Download press release
The Mothers
Set within a contemporary black community in Southern California, The Mothers begins with a secret. Nadia Turner is a rebellious, grief-stricken, seventeen-year-old beauty who, mourning her own mother's recent suicide, takes up with the local pastor's son. Luke Sheppard is twenty-one, a former football star whose injury has reduced him to waiting tables at a diner. They are young; it's not serious. But the secret that results from this teen romance – and the subsequent cover-up – will have an impact that goes far beyond their youth. What follows is a three-part story following Nadia, Luke, and their mutual friend Aubrey, narrated in part by a chorus of "the Mothers", the old church ladies who make poignant – and sometimes hypocritical – commentary about the younger generation.
The Mothers is a sharp, moving, provocative story about young love, friendship, and ambition; about the roles demanded of young black women and men, and the hypocrisy sometimes inherent in a community's expectations.