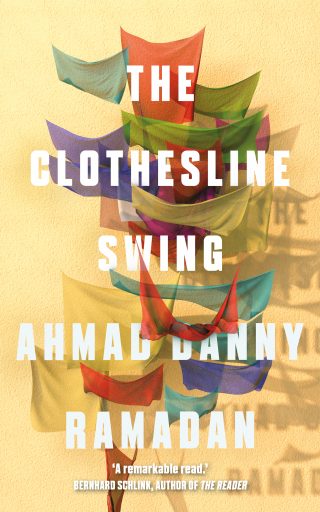 Download press release
The Clothesline Swing
The epic story of two lovers anchored to the memory of a dying Syria
'When I was a boy, I used to write stories to save my own life; now I'm telling you those same stories in hopes of saving yours…'
Two elderly men lie on a bed in a house in Vancouver. One is clinging to the last bit of life left inside him. The other, his lover, nearly eighty years old, recounts the fading memories of a life and a love forged urgently and passionately amid the tension of war-torn Damascus.
'Tell me a story' you say.
Hakawati, the storyteller, prolongs their precious time together by relaying remembered fables to his dying partner. Each night he weaves stories of his childhood in Old Damascus, of the cruelty he has endured for his sexuality, of his disturbed and spiteful mother, of running away from home, of the tyranny of war, of his fated meeting with his lover. He says, 'Every stage of my life feels like the story of a different man, each one a man I don't know well.'
Meanwhile Death himself, in his dark cloak, shares the house with the two men, eavesdropping on their secrets as he awaits their final undoing.
The Clothesline Swing is an enthralling tale of love and courage that weaves through the mountains of Syria, the valleys of Lebanon, the encircling seas of Turkey, the heat of Egypt and finally, to the hope of a new home in Canada. Permeated with the spirit of One Thousand and One Nights, this inventive story of love and darkness is a truly magical debut – brave and bold, it sparkles with life.
'A remarkable read. Danny Ramadan opens a world for his readers and guides them through it with sensitivity and suspense.'

Bernard Schlink, author of The Reader