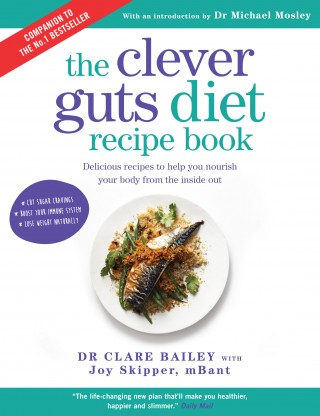 Download press release
The Clever Guts Diet Recipe Book
Delicious recipes to help you nourish your body from the inside out
Your gut is key to y​our ​physical and mental wellbeing ​ – home to your microbiome, an army of microbes that influences your weight, mood and immune system​.​
​In this companion book to Dr Michael Mosley's bestselling The Clever Guts Diet, Dr Clare Bailey, GP and wife of Dr Mosley,​ ​offers the definitive toolkit for bringing your gut back to optimum health. With 150 delicious recipes, ranging from healing broths and fermented food to enzyme-stimulating salads and meals rich in pre- and probiotics​, this book shows you how to reboot your microbiome with Dr Mosley's revolutionary two-phase gut ​repair programme​.
​Whether you ​are an IBS​ sufferer, have a food​ intolerance, or are ​simply looking t​o undo​ the damage done by processed foods and​ ​antibiotics​, The Clever Guts Diet Recipe Book​ is packed with ​nutritional information,​ ​meal planners and all the advice you need to mend your gu​t and boost your health and wellbeing​.
"The life-changing new plan that'll make you healthier, happier and slimmer."

The Daily Mail