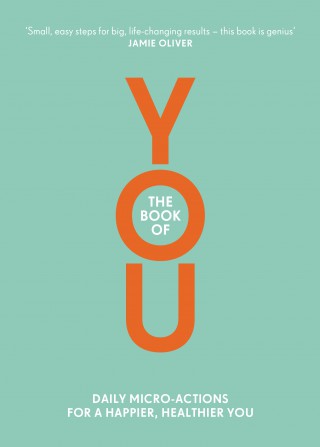 The Book of YOU
Daily Micro-Actions for a Happier, Healthier YOU
'Micro-actions train us to succeed every day and lead to lasting self-improvement. Micro is actually huge.'  Caroline Arnold, author of Small Move, Big Change
The Book of YOU is based on the hugely popular wellbeing YOU-app which has had hundreds of thousands of downloads to date and is growing by the day.
With more of us striving to make small changes in our busy lives, The Book of YOU is a timely and practical publication which sets out daily achievable micro-actions. The book is based on an app called YOU-app which was created by Nora Rosendahl, Nelli Lähteenmäki and Aleksi Hoffman, co-founders of the company Fifth Corner Inc.  Jamie Oliver helped to launch the app earlier this year. He creates food actions for it and is one of the book's action hosts alongside other experts in the fields of fitness, mindfulness, nutrition and self-help.
SMALL THINGS MATTER.
We all have it in us to live a happy, healthy life, yet self-improvement can be difficult, and knowing what to do on a day-to-day basis is not always obvious or intuitive. Your life is the sum of the small micro-actions you do every day, and every choice you make is significant. This book will empower you to make change happen – one micro-action at a time. Because small things matter.
What is a micro-action? A micro-action is small, simple, and achievable. For anyone. 'Sit quietly for 2 minutes' is a micro-action. 'Meditate for 20 minutes' is not. 'Take the stairs' is a micro-action. 'Run a marathon' is not. Simple, but it makes all the difference. Each action comes under one of 4 categories (food, mood, mind and love) and the book contains 365 micro-actions, one for every day of the year.
'Our mission is to support people in making small changes in their lives, and micro-actions work brilliantly as a book. We're probably among the first to turn an app into a book. The two complement each other nicely – whereas the app has the social element to it, the book is a much more personal companion, almost like a diary.' Rosendahl & Lähteenmäki
 Nora Rosendahl, Nelli Lähteenmäki and Aleksi Hoffman are co-founders of the wellbeing      YOU-app. Nora, an engineer who previously worked for some of the world's largest companies, is the editorial engine behind the micro-actions on the app and in this book. Nelli is an engineer, serial entrepreneur and musician who previously worked in San Francisco, returning to her native Finland to help create the YOU-app. Aleksi is an engineer and former competitive cyclist with a passion for behavioural change who steers the direction of the mobile app.
Contributors
Jamie Oliver
Jamie Oliver is a global phenomenon in food and food campaigning. Over a sixteen–year television and publishing career, Jamie has inspired millions of people to enjoy cooking from scratch and eating fresh, delicious food. After re-focusing on his own health over the last two years, Jamie is enjoying sharing his in-depth food knowledge, as well as tips learnt during a recent qualification in nutrition. Just like his latest cookbook, Everyday Super Food, Jamie's micro-actions exist to help everyone eat better and have a healthier relationship with food, one step at a time.
Caroline Arnold
Caroline L. Arnold is the author of the book Small Move, Big Change: Using Microresolutions to Transform Your Life Permanently. As well as an advisor for the YOU-app, Caroline is also a managing director of Goldman Sachs in New York, and was the recipient of a Wall Street Technology Innovation Award for creating the auction platform for the Google IPO. She lives in New York City with her husband and daughter.
Dr Tara Swart
Dr Tara Swart is an Oxford-trained medical doctor who worked in psychiatry for seven years, has a PhD in neuroscience and started up a brain-based leadership consultancy in 2008. She is the author of two books, as well as a global speaker and thought leader on sustainable behaviour change and resilience. She is the scientific advisor for the YOU-app.
Darya Rose
Darya Rose is the author of Foodist and creator of Summer Tomato, one of TIME's 50 best websites. She received her PhD in neuroscience from UCSF and her bachelor's degree in Molecular and Cell Biology from UC Berkley. Darya will help you get healthy and lose weight without dieting by building healthy habits; she believes this is the true key to better health. She eats amazing things daily and hasn't considered going on a diet since 2007.
Dani Stevens 
In Dani's ten-year journey to fitness and wellbeing she has lost close to 100kg over the course of four pregnancies. A busy mum based in Australia, she demonstrates that you don't need an army of personal trainers and private chefs to enjoy a healthy lifestyle. Dani is proof that fitness is fun and deliciously healthy food can transform your life, one micro-action at a time. Read more about her on her blog DaniStevens.com which has over 200,000 followers.
Jamie Sawyer
Jamie Sawyer is one of the UK's leading strength and conditioning coaches and is also a personal trainer. He has worked with elite athletes as well as Hollywood A-listers. Jamie uses his knowledge of sports science to create bespoke training, nutrition and lifestyle regimes. He also writes regularly for Men's Health magazine.
Visit YOU-app online at https://you-app.com/   
'Small, easy steps for big, life-changing results – this book is genius'

Jamie Oliver