Contact Becke for more information: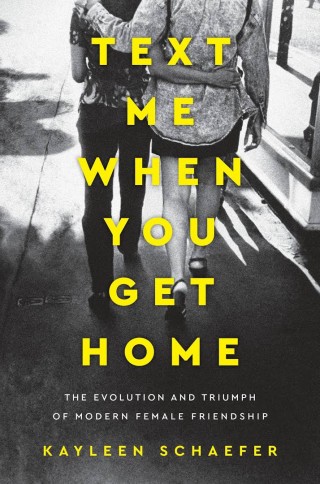 Download press release
Text Me When You Get Home
The Evolution and Triumph Of Modern Female Friendship
Text me when you get home: a simple phrase with a complex meaning for the women who utter it. After nights out together or afternoon coffees, those six words are a parting ritual for women everywhere. But more than simply a way to say goodbye, this phrase represents a deeper sense of solidarity: it's about safety and love, a way of saying I've got your back.
From Galentine's Day in the States to #squadgoals to the solidarity found in movements like #MeToo and #WhyWeWearBlack, women are finding new strength in publicly affirming and empowering the women in their life, which this new release chronicles and celebrates.
In Text Me When You Get Home journalist Kayleen Schaefer explores the shifting perspectives – societal, academic, and interpersonal – on female friendship. It is a love letter to women who are lifting up their female friendships like never before, and proving that female friendships are as intimate, lasting, and empowering as any other relationship.
From Broad City to Big Little Lies to what women say about their own best friends, the stories we're telling about female friendship have changed. This isn't just a theoretical shift—it's one that has had a very real and lasting impact on Schaefer's own life, along with the lives of women across the country. For Kayleen, this shift came in the form of a co-worker-turned-best-friend, Ruthie. After years of regarding friendship as less important than romantic relationships, Kayleen was shocked to realise that her friendship with Ruthie provided a deep kind of kinship and support that she had never before experienced—and that relationship has been a guiding force in her life ever since. In recent years, other women have come to the same conclusion, and Schaefer tells their stories alongside her own.
Schaefer interviews dozens of women across America: historians, creators of the most iconic films and television shows about female friendship, celebrities, authors, and other experts. She also digs into the changing academic and sociological theories on friendships between women.
By tracing how the role of female friendship has changed from past generations, Text Me When You Get Home explores the future of female friendship in modern society as much as it celebrates the journey.
"[A] witty, deep memoir [that] digs into the power and the glory of female friendships…Where to start unpacking the good news that Kayleen Schaefer broadcasts in her timely, nimble, essential memoir…Every page of this book has something valuable to impart about the necessity of fostering female bonds and tending them with the same care we give to our relationships with family, spouses, and children."

Elle

"Reading Text Me When You Get Home feels like experiencing its subject—the intimate, slow-burning, miraculously comfortable thrill of making and keeping a lifelong friend. Kayleen Schaefer's affectionate and clear-sighted exploration of female friendship is as romantic as a movie and as honest as the conversation on the third day of a road trip; reading it is as delightful as walking into a bar on a weeknight to see your friend already seated and ordering your drink."

Jia Tolentino, staff writer at The New Yorker

"A hopeful celebration of women's friendships"

Kirkus Reviews