Contact Sue for more information: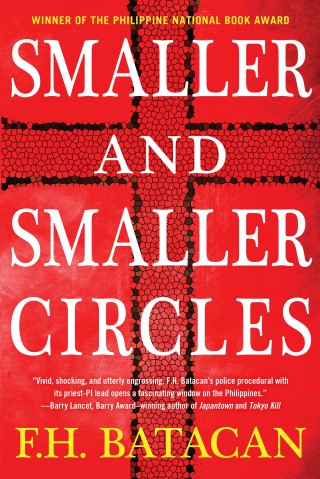 Download press release
Smaller and Smaller Circles
Winner of the Philippine National Book Award and considered the first Filipino crime novel, Smaller and Smaller Circles follows two Catholic priests on the hunt for a brutal serial killer in Manila's notorious Payatas dumpsite slum.
When the mutilated bodies of young boys begin to appear in the Payatas dumpsite, two Jesuit priests take the matter of protecting their flock into their own hands. Father Gus Saenz has been a priest for three decades, but he is also a forensic anthropologist, one of the few in the Philippines, and has been tapped by the Director of the National Bureau of Investigations as a backup for police efforts. Together with his protégé, Father Jerome Lucero, a psychologist, Saenz races to track down the monster preying on these boys before he kills again.
Conceived as a corrective measure to address the widely purported notion that there are no serial killers in the Philippines, F.H. Batacan insists in her debut that overlooked, under-policed, impoverished communities are especially vulnerable to violent crime and are often forced to seek justice outside of the over-burdened, corrupt state legal apparatus. This barbed political critique combined with an unflinchingly gritty, breakneck plot makes Smaller and Smaller Circles a necessary addition to the crime fiction genre.