Contact Sue for more information: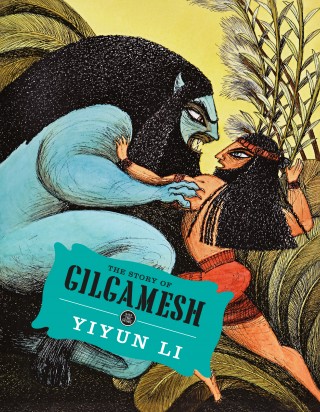 Save the Story Series; The Story of Gilgamesh
GREAT WRITERS. YOUNG READERS. IMMORTAL STORIES.
With special thanks to THE SUMERIANS Illustrator MARCO LORENZETTI
The perfect introduction to Gilgamesh, one of the earliest surviving works of world literature retold for children….
"A real friend is a companion for your heart." Godlike Gilgamesh, King of Uruk, has built a beautiful city, but is also a terrible tyrant. In answer to the prayers of his oppressed citizens, the gods create Enkidu, a wild man whose destiny is to first fight Gilgamesh, and then become his life-long friend. They embark on adventures together, but when they – together – kill the Bull of Heaven, Enkidu must pay the ultimate price. In his grief and fear of his own death, Gilgamesh goes on a journey to discover the secret to immortality
Beautifully illustrated, this is part of a 10-book series of the world's great stories retold for children, published by Pushkin Press in 2013/14
Save the Story is a library of favourite stories from around the world, retold for today's children by some of the best contemporary writers, including Alessandro Baricco, Umberto Eco, Dave Eggers, Yiyun Li, Ali Smith and A. B. Yehoshua. The stories they retell span cultures (from Ancient Greece to nineteenth century Russia, time and genres (from comedy and romance to mythology and the realist novel).
Save the Story series published 2013/2014
ANTIGONE BY ALI SMITH 
GULLIVER BY JONATHAN COE 
CAPTAIN NEMO BY DAVE EGGERS
DON JUAN BY ALESSANDRO BARICCO
GILGAMESH BY YIYUN LI
THE BETROTHED BY UMBERTO ECO
CYRANO DE BERGERAC BY STEFANO BENNI
THE NOSE BY ANDREA CAMILLERI
KING LEAR BY MELANIA G MAZZUCCO
CRIME AND PUNISHMENT BY A B YEHOSHUA