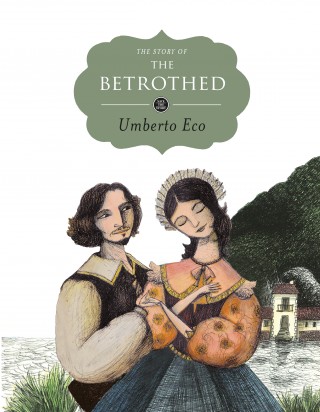 Save the Story Series; The Betrothed
GREAT WRITERS. YOUNG READERS. IMMORTAL STORIES.
with special thanks to ALESSANDRO MANZONI Illustrator MARCO LORENZETTI  Translator ALASTAIR MCEWEN
The perfect introduction to Italy's national literary classic retold for children…
"This marriage is not supposed to happen." Lombardy, 1628, a time of oppressive Spanish occupation of Northern Italy, and of the Thirty Years' War. The young lovers Lorenzo and Lucia, both from peasant families, are planning their wedding. However, the villainous Don Rodrigo has designs on Lucia, and the lovers are forced to flee their village. Their dangerous journey in exile takes them through one of the most dramatic epochs in Italian history, filled with war, famine and plague – will they ever be able to find happiness together?
Beautifully illustrated, this is part of a 10-book series of the world's great stories retold for children, published by Pushkin Press in 2013/14
Save the Story is a library of favourite stories from around the world, retold for today's children by some of the best contemporary writers, including Alessandro Baricco, Umberto Eco, Dave Eggers, Yiyun Li, Ali Smith and A. B. Yehoshua. The stories they retell span cultures (from Ancient Greece to nineteenth century Russia, time and genres (from comedy and romance to mythology and the realist novel).
SAVE THE STORY SERIES PUBLISHED 2013-2014
ANTIGONE BY ALI SMITH 
GULLIVER BY JONATHAN COE 
CAPTAIN NEMO BY DAVE EGGERS
DON JUAN BY ALESSANDRO BARICCO
GILGAMESH BY YIYUN LI
THE BETROTHED BY UMBURTO ECO
CYRANO DE BERGERAC BY STEFANO BENNI
THE NOSE BY ANDREA CAMILLERI
KING LEAR BY MELANIA G MAZZUCCO
CRIME AND PUNISHMENT BY A B YEHOSHUA
…enticing, generously sized and dashingly illustrated…What makes these books special is that, brilliantly told by top-flight novelists, they are fresh, idiosyncratic and winning.

Kate Kellaway, Observer

This handsomely illustrated series… offers younger readers vivid, accessible first encounters with some literary heavyweights.

Metro