Contact Becke for more information: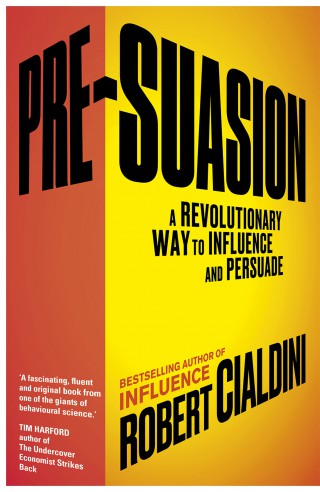 Download press release
Pre-Suasion
A Revolutionary Way to Influence and Persuade
In his ground-breaking new book Professor Robert Cialdini offers revelatory new insights into the art of winning people over. It isn't just what we say or how we say it that counts, he argues, but also what goes on in the moments before we speak. Effective persuasion requires effective pre-suasion.
"A fascinating, fluent and original book from one of the giants of behavioural science."

Tim Harford, author of The Undercover Economist Strikes Back

"It's a book that is guaranteed to be a bestseller among marketeers, but it should also be a must-read for any professional or consumer – in other words, all of us.'"

David Halpern, CEO, the Behavioural Insights Team, author of Inside the Nudge Unit

"The great social psychologist Robert Cialdini has written another timeless and indispensable book about the psychology of influence.  I'll be recommending it for years and years."

Amy Cuddy, author of Presence

"An utterly fascinating read on how the most important drivers of persuasion aren't the words we choose in the moment, but how we set the stage beforehand.  Robert Cialdini is the world's foremost expert on influence, and you will never look at it the same way again."

Adam Grant, author of Originals and Give and Take

"No social psychologist's research has been used more often or successfully than that of Robert Cialdini, who literally "wrote the book" on influence. Now, he's done it again, showing us the power of the moment before an attempt to persuade.  This is classic Cialdini – authoritative, original, and immediately practical."

Richard H. Thaler, co-author of Nudge and author of Misbehaving

"There are single sentences in this book that are worth the purchase price on their own. I loved it."

Rory Sutherland, Vice-chairman of the Ogilvy Group, UK