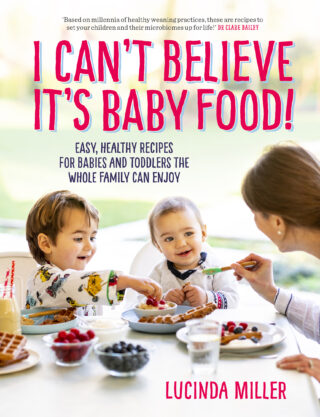 Download press release
I Can't Believe It's Baby Food!
Easy, healthy recipes for babies and toddlers the whole family can enjoy
Lucinda Miller has specialised in clinical child nutrition for over 20 years.  In her new book she shows how every bite counts when it comes to feeding babies and toddlers alongside the whole family.  I Can't Believe It's Baby Food! is packed with a delicious variety of recipes that nurture the child's future health with each spoonful.  With Lucinda's recipes – from breakfast to snacks & sweet treats – every single mouthful is feeding the brain, the gut and the immune system.
Nearly all the dishes are suitable for weaning babies from six months, and they are easy to adapt for different ages, food allergies and fussy eaters.  The whole family can cook and eat together, with recipes ranging from Raspberry Banana Pancakes and Nutty Sweet Potato Toasts to Smokey Prawn and Pea Paella and Minty Lamb Koftas.  Weekly menu planners are also included.
'I wish I had had this book when I was bringing up my three. Lucinda's recipes are not only quick for a tired mum, but more importantly DELICIOUS for the children…'

Thomasina Miers

'Based on millennia of healthy weaning practices, these are recipes to set your children and their microbiomes up for life!'

Dr Clare Bailey