Contact Becke for more information: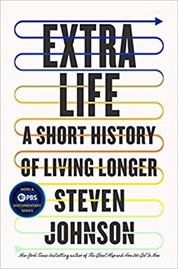 Download press release
Extra Life
A Short History Of Living Longer
As the world races to produce and distribute COVID-19 vaccines, Steven Johnson sheds light on past successes in public health and what will drive future advances.  As a species we have doubled our life expectancy in just one hundred years.  Modern advances have given us each an extra twenty thousand days to live on average—the most astonishing measure of human progress by far.  Extra Life is a close and fascinating look at the milestones of this progress— from the discoveries of vaccines and antibiotics, to the introduction of things that are now commonplace, such as pasteurized milk, chlorinated drinking water and seatbelts.
"Mr. Johnson's erudition can be quite gob smacking"

The Wall Street Journal

"Riveting… A deep thinker and gifted storyteller."

The New York Times Book Review

"A true page-turner"

The Washington Post

"A maven of the history of ideas."

The Guardian

"An unbelievable book…it's an innovative way to talk about history."

Jon Stewart on How We Got To Now