Contact Sue for more information: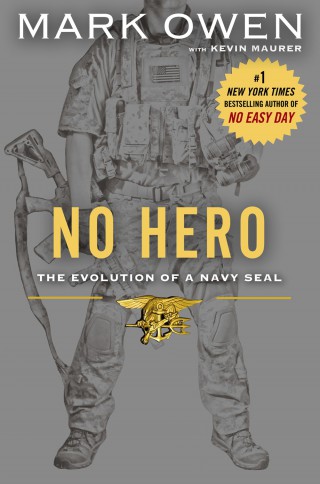 Download press release
No Hero
The Evolution of a Navy Seal
'Destined to follow in the first book's big-selling footsteps, as it is well suited to the public's almost insatiable appetite for action-filled true stories ….[A] book that is sure to appeal the many fans of in-the-trenches special forces memoirs.' –Publishers Weekly
Two years ago, Mark Owen sat down with CBS "60 Minutes" to talk about being a team leader on the raid that killed Osama bin Laden and his book No Easy Day. That hour-long program went on to win two Emmy's, No Easy Day went on to become a bestselling phenomenon, and Owen has not spoken publicly since.
Now with the publication of NO HERO: The Evolution of a Navy SEAL, Owen opens up about his transition to civilian life and details how his training and experiences on the battleground have made him the man he is today. Written again with Kevin Maurer, NO HERO is every bit as gripping and action-packed as No Easy Day and yet more intimate. Owen talks candidly about the moments in his career where he learned the most valuable lessons. These are often the moments where he made mistakes rather than headlines and it's this honesty which makes NO HERO one of the most unique examinations of the mind of a Navy SEAL.
Mark Owen discusses where he was and how he coped when his identity, which he hoped to keep anonymous for security reasons, was released to the public; his fear of heights and his lack of confidence as a swimmer and how he navigated a career where swimming in darkness through icy waters and cutting yourself loose from a malfunctioning parachute were only small parts of the job description; how to control fear and handle stress through his personal "three-foot world" mantra; the importance of getting comfortable being uncomfortable and the personal toll combat inflicts. In No Hero Owen talks openly about the fact that he was trained to deal with just about every combat or tactical situation, but never had any training in how to deal with the emotional side of killing.
NO HERO gives extraordinary insight into a hidden world, a wholly originally and candid look into the mind and training of a Navy SEAL.