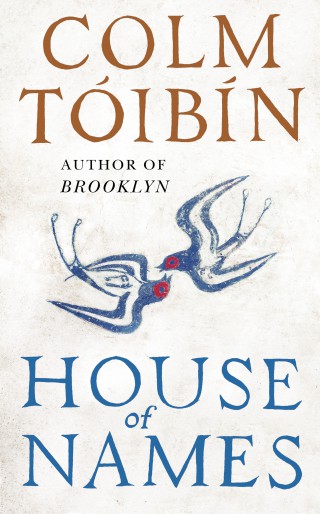 Download press release
House of Names
A breathtaking story of a family at war with itself told by one of the world's greatest living storytellers.
"I have been acquainted with the smell of death. The sickly, sugary smell that wafts in the wind towards the rooms in this palace. It is easy now for me to feel peaceful and content. I spend my morning looking at the sky and the changing light. The birdsong begins to rise as the world fills with its own pleasures and then, as day wanes, the sound too wanes and fades. I watch as the shadows lengthen. So much has slipped away, but the smell of death lingers."
Extracted from House of Names
On the day of his daughter's wedding, Agamemnon orders her to be sacrificed. His daughter is led to her death, and Agamemnon leads his army into battle, where he is rewarded with glorious victory. Three years later he returns home and his murderous action has set the entire family – mother, brother, sister – on a path of intimate violence, as they enter a world of hushed commands and soundless journeys through the palace's dungeons and bedchambers. As his wife seeks death, his daughter, Electra, is the silent observer of the family's game of innocence while his son Orestes, is sent into a bewildering and frightening exile where survival is far from certain. Out of their desolating loss, Electra and Orestes must find a way to right these wrongs of the past even if it means committing themselves to a terrible, barbarous act.
'Tremendous, richly beautiful, wonderful…it does everything we ought to ask of a great novel.
Tessa Hadley, Guardian (Nora Webster)
 'The most compelling and moving portrait of a young woman I have read in a long time'
Zoë Heller, Guardian, Books of the Year (Brooklyn)
 'A work of such skill, understatement and sly jewelled merriment could haunt your life'
Ali Smith, TLS, Books of the Year (Brooklyn)
'Suffused with humane depth, funny, affecting, deftly plotted . . . a novel of magnificent accomplishment' Peter Kemp, Sunday Times, Novel of the Year (Brooklyn)
Colm Tóibín was born in Enniscorthy in 1955. He is the author of nine novels including The Blackwater Lightship, The Master and The Testament of Mary, all three of which were nominated for the Booker Prize, with The Master also winning the IMPAC Award.  Brooklyn won the Costa Novel of the Year Award and the film adaptation was nominated for best picture Oscar in 2016 and won Outstanding British film at the Baftas. His most recent novel was the highly-acclaimed Nora Webster. He has also published two collections of short stories and many works of non-fiction. He lives in Dublin.