The Dog Diet by Kate Bendix
Comments Off

on The Dog Diet by Kate Bendix
We are what we eat. And the same goes for our dogs…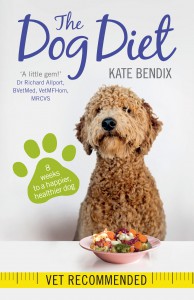 Over the past 20 years, our dog's lives have come to mimic our own. They are overfed, under-exercised and stressed, and because of this they are increasingly taking on our shape and disease pattern. More than half the dogs in this country are now either overweight or obese. And the instance of obesity, diabetes, heart disease and inflammatory bowl disease in our dogs has rocketed.
In this book, Kate Bendix presents a brilliantly compelling case for better dog nutrition. Based on the latest science, it includes enough pet food knowledge to enable you not only to get your dog's weight down but to transform her health in general. It will sort out many of the common, niggling health issues (itchy skin, dog breath, dodgy joints) and even prolong her life. Follow this advice and you will have a slimmer, happier dog – a gleaming, sleek Greek god of a hound who snoozes when she should, doesn't moult as if fur just went out of fashion, and runs like the wind. Just because she can!
The catch? There isn't one. The Dog Diet is easy, it won't cost you a fortune or eat into your precious downtime; and, wait for it… your dog will actually enjoy it.
Kate Bendix worked for many years in television documentaries, before setting up her website, My Itchy Dog. She is an experienced broadcaster and features regularly on radio shows discussing dog health, she also writes for the canine magazines.
Some discussion points from the author:
Dog Food – the myth about super-premium brands – often very similar to most economy foods but marketed cleverly. What do they really contain?
Finding the right mix of raw food / home cooked food / bought food to feed your dog.
Treats – how to make delicious homemade treats for your dog – or failing that the best ones you can buy from the shop.
Healing Recipes to make your mutt feel better – whether it's a leaking gut, keeping joints supple and pain free or helping your dog take his medicine – these natural recipes can really help.
Kate can also talk about general dog know-how – such as how to select the right breed for your life, taking your dog on holiday, training your puppy, rehabilitating rescue dogs, seasonal problems etc.
"A practical and funny handbook… which shows how easily a varied and unprocessed diet can make dogs slim and vibrant."
Anna Webb – Barking Blonde & broadcaster
Or visit Kate's website – www.myitchydog.co.uk