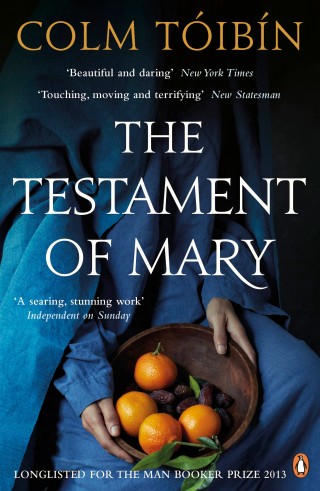 The Testament of Mary
Shortlisted for the Man Booker Prize The Testament of Mary tells the story of a cataclysmic event which led to an overpowering grief. For Mary, her son has been lost to the world, and now, living in exile and in fear, she tries to piece together the memories of the events that led to her son's brutal death.
She is both tender and filled with rage, a wary and vulnerable figure navigating a time of turmoil and change.  As her life and her suffering begin to acquire the resonance of myth, Mary struggles to break the silence surrounding what she knows to have happened.  In her effort to tell the truth in all its gnarled complexity, she slowly emerges as a figure of immense moral stature as well as a woman from history rendered now as fully human.
A tender, soul-rending exploration of a mother's morning; a searing stunning work

The Independent

This is a flawless work, touching, moving and terrifying

Linda Grant, The New Statesman

Beguiling and deeply intelligent . . . in a single passage – and in a rendition, furthermore, of one of the most famous passages in western literature – Tóibín shows how the telling and the details are all important.


Robert Collins, The Sunday Times

Tóibín's weary Mary, sceptical and grudging, reads as far more true and real than the saintly perpetual virgin of legend. And Tóibín is a wonderful writer: as ever, his lyrical and moving prose is the real miracle.

Naomi Alderman, The Observer