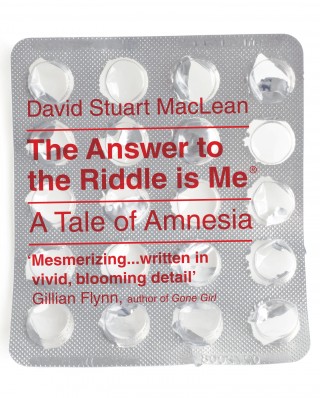 The Answer to the Riddle is Me
A Tale of Amnesia
"Mesmerizing… Written in vivid, blooming detail."
Gillian Flynn, author of Gone Girl
Imagine waking up in a train station in India with no idea who you are or how you got there…
In 2002, at age twenty-eight, David MacLean woke up in a foreign land with his memory wiped clean. No money. No passport. No identity.
Taken to a mental hospital by the police, MacLean then started to hallucinate so severely he had to be tied down. Soon he could remember song lyrics and scenes from television shows, but not his family, his friends, or the woman he loved. All of these symptoms, it turned out, were the result of the commonly prescribed malarial medication he was taking. Upon his return to the States, he struggled to piece together the fragments of his former life in a harrowing, absurd, and unforgettable journey back to himself.
"Brilliant and painful and hilarious." Antonya Nelson 
"A gripping medical mystery, a heartwarming personal journey, and a chilling indictment of the commonly prescribed drug that upended MacLean's life—but left his superb literary skills very much intact." Rebecca Skloot, bestselling author of The Immortal Life of Henrietta Lacks
 A deeply felt, closely researched, and intensely personal book, The Answer to the Riddle Is Me, drawn from MacLean's award-winning This American Life essay, confronts and celebrates the dark, mysterious depths of our psyches and the myriad ways we are all unknowable, especially to ourselves.
 "MacLean fearlessly explores his journey to the edge of madness and his subsequent return to sanity in an unsettling, sometimes riotous, memoir." Publishers Weekly