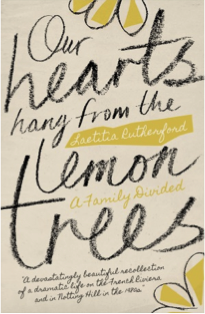 Our Hearts Hang from the Lemon Trees
In this captivating memoir, Laetitia Rutherford evokes a vanished world set alight by her enigmatic grandfather and her brilliant but troubled father – two men who never speak.
This is a very personal story, about my strange if wonderful family and how I recovered from the sorrows we went through. – Laetitia Rutherford
The youngest daughter of a prominent journalist Laetitia is brought up in a genteel poverty in London's Notting Hill, in an eccentric family caught on the cusp between the Thatcher era and an older age of austerity. Her father, in his love of poetry and his coruscating ideas, is a constant source of inspiration but a hard man to impress. In the holidays , she and her sisters and mother leave him for her mother's family in France where her tempestuous grandmother dominates, and where Laetitia is often left with her beloved but increasingly frail grandfather – "the oldest and the youngest thrown together to keep an eye on each other". Over twenty summers spent at a villa on the Riviera and a crumbling chateau in the Loire – like the house in London, stuffed with books and fragments of the past – a riveting family drama unfolds, as the secrets of why the two sides never speak and why her father seemed so bizarrely absent are gradually revealed.
This is the story of a girl growing up in a divided family, a story about secrets, about losing and finding love, and about poems that can save your life