Contact Becke for more information: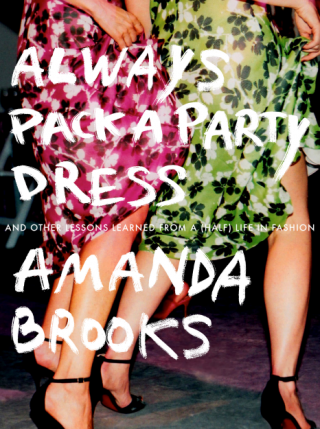 Always Pack A Party Dress
And Other lessons Learned From A (Half) Life In Fashion
An authentic voice in the world of fashion and how-to, Amanda Brooks' unique yet accessible style has inspired thousands of women of all ages to explore their identities through the clothes they love and wear. In her new book, Brooks recalls her early career aspirations and explores the evolution of her own personal style along with stories of successes and failures alike, as well as fashion and beauty tips and inspiring photographs.
Brooks has created a unique place for herself in the fashion world over the past two decades. After a coincidental meeting at a Manhattan restaurant, she landed a photography internship with fashion photographer Patrick Demarchelier and travelled the world assisting on photo shoots for Kate Moss and Madonna. At twenty-five, she began consulting for fashion designers; in her thirties, Brooks wrote her first book, I Love Your Style: How to Define and Refine Your Personal Style, and a few years later found her dream job as the fashion director for Barneys New York.
ALWAYS PACK A PARTY DRESS is equal parts fashion and career memoir. Brooks explores her sartorial and professional growth while confessing outfits and jobs she bungled along the way. She candidly relates the wisdom learned from moments of both success and failure (like her rejection from Graydon Carter for the Vanity Fair fashion director job; "It has motivated me ever since.") and mentors like Diane von Furstenberg ("All women need a dose of humility from time to time. Few things are as effective as a bad haircut,").
With beautiful photographs from Brooks' personal collection and from her professional experiences, accompanied by warm, candid and witty prose, ALWAYS PACK A PARTY DRESS is an inspirational book to be dipped into, referenced and re-read for years to come.
Fashion Lessons:
Embrace Your History
"It was too exhausting to try so hard to reinvent my look all the time. I also started to feel like when I dressed in clothes that were familiar to my life and my history, I felt more comfortable, more like myself." (p32)
Style Influences:
My Mother
"I can relate to how she evolved towards a place where she spends less time and money on her clothes, and I look at her and aspire to look half as chic as she is even though her life is so much more dynamic than thinking about what to wear all the time." (p40)
Professional Advice:
Rules for Consulting
"When you have reached the position of being able to use your knowledge and expertise, here's how you get started:
– How to know what your rate should be
– Logistics: In order to have a well-functioning freelance work life that maximizes your time effectively, you need to establish some ground rules with your employer.
– Making time for your own creativity: The final key to happiness through consulting is having a project that is just yours." (p200)