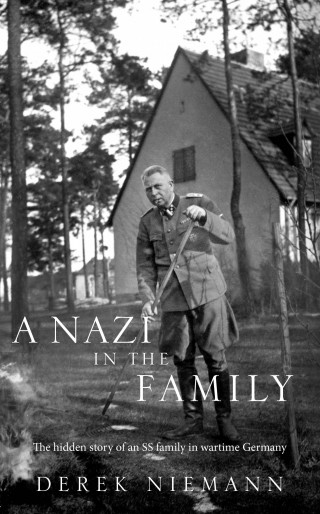 Download press release
A Nazi in the Family
The Hidden Story of an SS Family in Wartime Germany
"I was at Dachau. Not as an inmate – I was one of the bad Germans.I used to tell people I was in Munich, but no, I was at Dachau." – Rudolf Adolf August Martin Wilhelm Niemann (my Dad)
Eleven million people perished in the Holocaust. Most of them slept (and many died) in the bunk beds that Derek's grandfather had responsibility for manufacturing. Karl regularly visited concentration camps as part of his work. He saw the skeletal figures and witnessed torture and brutality. Yet for ten years he carried on working for the SS regardless, taking home his wages, tending his garden, reinventing himself in the evenings as a family man.
In this shocking book Derek reveals the story of a family living through the formation of Nazi Germany from the ashes of the Great War, right through to its collapse under Allied and Russian assault. This is an unflinching look at a man who, whether through compulsion or circumstance, fell into the darkest service of Nazi Germany; of a wife, obstinate in her opposition to the regime, but loyal and loving to her SS officer husband; and of children who through innocent eyes saw the rise and fall of a country and a family.
2015 marks the 70th Anniversary of the Liberation of Auschwitz, Buchenwald, Belsen and Dachau
Scots-born author Derek Niemann is the editor of the RSPB children's magazines and has written several books on nature and conservation for young readers. He is also the author of adult non-fiction book Birds in a Cage (Short Books, 2012), the story of PoW birdwatchers in WWII. He lives in Bedfordshire with his family.