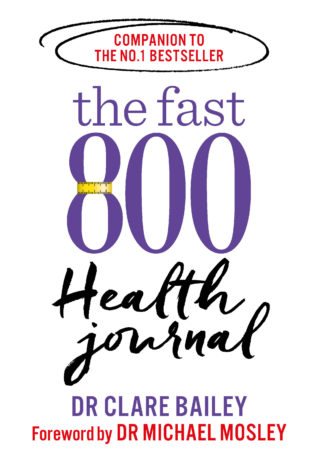 Download press release
The Fast 800 Health Journal
Dr Michael Mosley's bestselling The Fast 800 book presented a new approach to intermittent fasting, weight-loss and healthy eating, based on a low-carb, high-protein Mediterranean-style diet.  It followed studies that showed that 800 calories a day is the key to successful dieting – an amount that is high enough to be manageable but low enough to speed weight loss and trigger a range of desirable metabolic changes.  Now Dr Clare Bailey has created The Fast 800 Health Journal for anyone wanting to follow the Fast 800 plan and stick to it.
This easy-to-use, 12-week journal enables you to:
Plan meals and shopping lists – new Fast 800 recipes included
Record calories and factor in upcoming events
Set goals and reflect on the outcomes
Track activity levels
Monitor your mood, eating and sleep habits
Celebrate key achievements
The journal contains delicious new recipes, motivational tips and weekly reminders to keep you on track and successfully reach your healthy living goal.