Contact Becke for more information: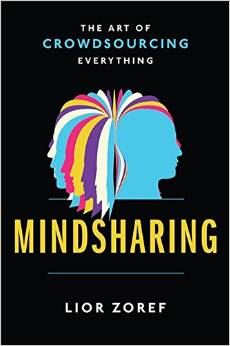 Download press release
MINDSHARING: The Art of Crowdsourcing Everything
What if we could make every important decision with the help of the smartest people in the world?
'Today, social networks are mostly about sharing moments. In the next decade, they'll also help you answer questions and solve complex problems.'
Mark Zuckerberg, 2014
~
We all struggle to make the best decisions possible. But what if we could make every important decision with the help of the smartest people in the world? Sound impossible? Surprisingly, we can all access the collective wisdom of hundreds or even thousands of people who together are as smart as any expert.
With millions of adults using Facebook, Twitter, and LinkedIn, more and more of us are turning to crowdsourcing to find information about finance, relationships, careers, and much more. In MINDSHARING: The Art of Crowdsourcing Everything former Microsoft vice president of marketing Lior Zoref shows a form of crowdsourcing that doesn't ask people to think for us but instead to think with us. Going beyond our small circle of connections for advice and support, Mindsharing allows us to harness the much greater power of our "weak" connections.
Drawing on his experience at Microsoft, as well as insights from his own research and mindsharing experiments, Zoref details step-by-step guidelines for tapping into the full potential of online networks. He also provides fascinating examples such as:
* How an obese man with the goal of losing one hundred pounds in a year conquered his fitness goals with an army of unwavering supporters.
* How Zoref, at his own TED Talk, was able to spontaneously poll the audience and get a near-exact estimate of the weight of an ox he brought onstage.
* How a distraught mother with a desperately ill four-year-old used Facebook to crowdsource the diagnosis that saved her son's life, after doctors couldn't help him.
Mindsharing is being applied to decisions as minor as how to design a business card and as major as buying a house. Whether you need to make better financial choices, find the love of your life, or transform your career, Zoref will show you how to harness the collective intelligence of a broad and diverse crowd.
~
Lior Zoref is a crowd wisdom researcher, an international speaker, and a consultant. He worked for fourteen years at Microsoft, most recently as vice president of marketing for consumer and online services.