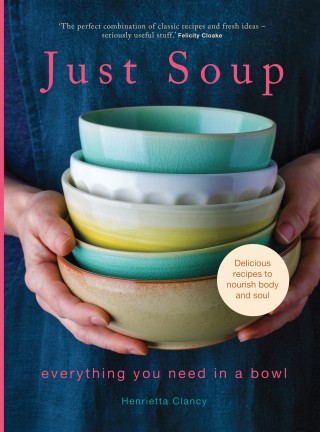 Download press release
Just Soup
Everything You Need in a Bowl
"There's something deeply satisfying about tackling a meal with a spoon" Henrietta Clancy 
In this beautiful book, Henrietta Clancy gives soup a new look.  The traditional food of convalescence, soup is a simple, nutritionally-dense food which has been nourishing generations the world over since records began, exuding healing powers that go beyond the comfort of cradling a bowl.  This is an inspirational collection of 50 simple, flavour-packed recipes divided into five chapters; raw, quick, slow, hearty and broth, and will appeal to seasoned soup makers who are stuck in broccoli and stilton rut, as well as soup novices.
Soups are often relinquished to starters, but in this book Henrietta shows that they can make hearty, gratifying meals, that take very little time to whip up and make you feel fantastic afterwards.
The book includes pack lunch hacks, child friendly options and soups to feed a crowd, as well as an A-Z of soup equipment, techniques and nutritional information.