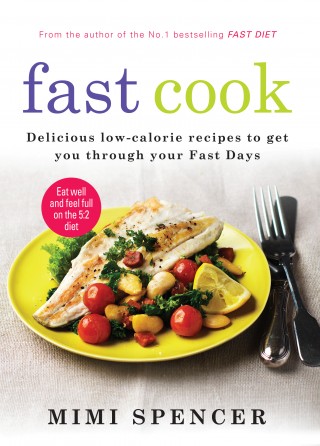 Fast Cook
Delicious low-calorie recipes to get you through your Fast Days
From the author of the No.1 bestseller The Fast Diet and Fast Diet Recipe Book….
Fast Cook: how to feel full and satisfied on 500-600 calories a day…
 In response to popular demand, a stunning new cookbook with the emphasis on simple, convenient, low-cal food to provide the definitive support system for the 5:2 diet.
With chapters ranging from Fast Favourites (the classics, only skinnier) and Warming & Wonderful (comfort food for hungry days) to Lightning Quick Suppers (speed cooking for when you want to walk in the door and eat in ten minutes flat), and even Fast-600 meals for men, there are recipes here for everyone!
Fast Cook is the perfect adjunct to the original Fast Diet Recipe Book, offering a whole new repertoire of really fast FAST food to sustain you through your Fast days and help you lose weight with ease.
Mimi Spencer is a journalist and author. A feature-writer and columnist for titles including the Mail, the Evening Standard, the Guardian, Marie Claire, Harper's Bazaar, Observer Food Monthly and Waitrose Food Illustrated. She is the author of 101 Things To Do Before You Diet (Transworld 2010), The Fast Diet and Fast Diet Recipe Book (Short Books).
STRICTLY EMBARGOED UNTIL PUBLICATION 17th March
Find out more here:
www.thefastdiet.co.uk /@TheFastDietBook www.facebook.com/thefastdiet.co.uk