Contact Becke for more information: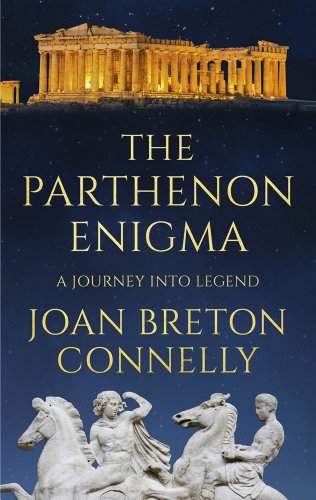 The Parthenon Enigma
A radical new interpretation of the meaning and purposes of one of the world's most iconic building
Never before in human history has there been a structure that is at once so visible to the world, so celebrated, so examined, so invested with authority, and yet, at the same time, so strangely impenetrable at its core. After centuries of study and admiration, the Parthenon remains, in so many ways, an enigma.
For more than two millennia, the Parthenon has been revered as the symbol of Western culture and its highest ideals, a lavish temple to the goddess Athena with its sculptures depicting a civic celebration in the birthplace of democracy. But how much do the values of those who built the Parthenon truly correspond with our own?
In this revolutionary book, Professor Joan Breton Connelly challenges our most basic assumptions about the Parthenon and the ancient Athenians.  Beginning with the natural environment and its rich mythic associations, she re-creates the development of the Acropolis from its prehistoric origins to its Periklean glory days as a constellation of temples among which the Parthenon stood supreme. In particular, she investigates the Parthenon's legendary frieze:
the 525-foot-long relief sculpture that originally encircled the upper part of the wall of the building's inner chamber before it was partially destroyed by Venetian cannon fire in the seventeenth century and its remnants shipped off to Britain in the nineteenth.  The frieze's vast enigmatic procession has, for more than two hundred years, been thought to represent a scene of annual civic celebration. However through a close reading of a once lost play by Euripides (discovered in the wrappings of a Hellenistic Egyptian mummy), Connelly has uncovered a long-buried meaning, a story of human sacrifice set during the city's mythic founding. In a society startlingly preoccupied with cult ritual, this story was at the core of what it meant to be Athenian.
Connelly reveals a world that questions the popular notions of Athens as a city of staid philosophers, rationalists, and rhetoricians, a world in which our modern secular conception of democracy would have been simply incomprehensible.
The Parthenon's full significance has been previously obscured, Connelly argues, because of the frieze's dismemberment. Connelly's investigation concludes with a call to reunite the pieces to allow what is perhaps the greatest single work of art surviving from antiquity to be viewed as its makers intended.
Presenting a breath-taking range of textual and visual evidence, and full of fresh insights woven into a narrative that brings the distant past to life, The Parthenon Enigma is set to become a landmark publication in our understanding of classical civilization.
'For her book is that rare thing: the exposition of a truly great idea, and a reminder of what a thrilling subject the past, that foreign country, can be.' – The New York Times Book Review
'We are a species of storytellers whose tales have shaped our reality since ancient times. Joan Connelly's brilliant study of the Parthenon shows how a myth can reveal as many secrets as a rock or a ruin, and how rethinking what we know about antiquity can help us better understand ourselves today.' – George Lucas, creator of the Star Wars saga