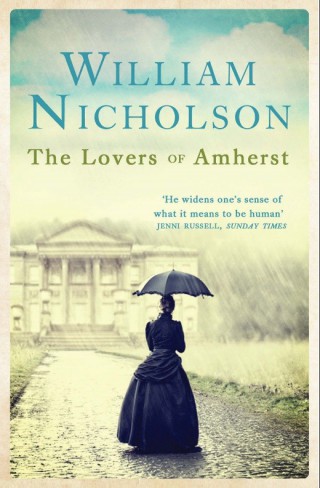 The Lovers of Amherst
'I found a way to tell the story in a way that sheds light on attitudes to love today, as well as celebrating Emily Dickinson's elecrifying poems'
August 1881: An attractive young married woman, Mabel Todd, arrives in Amherst, Massachusetts, with her husband David, recently appointed assistant professor at Amherst College. The treasurer of the college is Austin Dickinson, the most respected citizen of the town, a married man with three children. Austin's sister Emily lives as a recluse in the Homestead, the house next-door to Austin's family. Over the months that follow the Todds' arrival, Austin falls passionately in love with Mabel, and she with him.
October 2012: Alice Dickinson, 24 years old, is struggling with her failure to find a boyfriend. At the same time she wants to escape her copy-writing job and make a living as a screenwriter. She takes time off work to research a screenplay on a story that has fascinated her since college days, where a love of Emily Dickinson's poems was triggered by the coincidence of her own surname.The story is the illicit love affair between Austin Dickinson and Mabel Todd. The novel interweaves the stories of these two love affairs: the unfolding one between Alice and Nick, an older man she meets in Amherst, and the original love affair between Austin and Mabel, observed by Emily.
'Nicholson's great strength lies in his ability to make the reader understand and care about his characters; he loves them and we get to love them too. He is particularly concerned with morality and love, subjects that have inspired all great novelists. It is a joy to find a contemporary writer passionately engaged with both.'
Elizabeth Jane Howard
William Nicholson's plays include Shadowlands and Life Story, both of which won the BAFTA Best Television Drama award of their year. He co-wrote the script for the film Gladiator and he has scripted Les Misérables and Mandela. William Nicholson lives in East Sussex  with his wife and three children. As with his previous novels Motherland and Reckless we again have the opportunity to view William Nicholson's growing cycle of ambitious novels. It is this continuity and eddying arc that makes William Nicholson's work so addictive and absorbing. He takes us into a world which goes back and forth through time, dipping into different moments of the people's lives he has created.
He says…
I've been a lover of the poems of Emily Dickinson since my undergraduate days. I never studied them, but in my first reading I experienced a shock of astonished recognition: here was someone writing, I felt, directly to me and about me, though I'm not of her era or gender. I sought out and now own a first edition of her poems from 1890. I have retained a fascination with all things Emily ever since. So when I read a review of a book of letters and diaries from Emily's circle, back in the 1980s, I bought the book. The account of the passionate and very sexual affair this revealed amazed me. I had in mind perhaps a play on the subject, but never tackled it. Then as my own cycle of novels progressed I began to see parallels, and found a way to tell the story in a way that sheds light on attitudes to love today, as well as celebrating Emily's electrifying poems…
My latest novel features two intertwined stories, one contemporary and one historical. The one from the past tracks the true love affair between the poet Emily Dickinson's brother Austin and his mistress, Mabel Loomis Todd, in the puritan Massachusetts of the 1880s. Both were married to other people. Their affair was intense, very sexual, and of course against every code, both civil and religious. Emily Dickinson herself colluded in their trysts, allowing them to take place in her dining room. The lovers, Austin and Mabel, faced with the knowledge that what they were doing violated their professed principles, solved the problem and salved their consciences by this simple syllogism: our love for each other is true and pure; all that is true and pure comes from God; therefore God has sent us this love. They proceeded to tell each other, ecstatically, that they were divinely blessed, and breaking no laws that mattered. As I wrote the novel I became aware of the many overlaps between erotic passion and religious conviction. Far from being opposed, the two are almost identical. Both require a kind of blind faith and both deliver the sensation of being chosen.