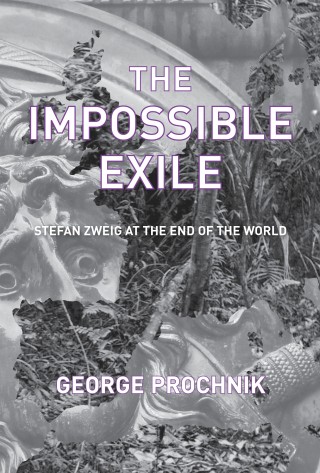 The Impossible Exile
Stefan Zweig At The End Of The World
A highly original study of exile, told through the biography of Austrian writer Stefan Zweig
In the 1930s, Stefan Zweig was one of the world's foremost literary celebrities and the most widely translated living author in the world.  An icon of the Viennese cultural renaissance, his intellectual and social circles counted Sigmund Freud, Albert Einstein, Thomas Mann, Herman Hesse, and Franz Werfel; his critics included the likes of Hannah Arendt and Karl Kraus.  Yet Zweig became increasingly troubled by Hitler's rise to power and what he viewed as European intellectualism's complicity in the dark forces overtaking the continent. Beginning in 1934, this best-selling writer of novels, short stories, and biographies, and staunch advocate of international humanism, plummeted into an increasingly isolated exile—from London to Bath to New York City, then Ossining, Rio, and finally Petrópolis—where, in 1942, in a cramped bungalow, he and his wife Lotte committed double suicide.
THE IMPOSSIBLE EXILE is a compelling psychological study of Stefan Zweig's years in exile, of the cultural and political landscape of pre-War Vienna, and of the implosion of Europe as an ideal of Western civilization. Through a portrait of a world on a precipice, teetering between old ideals of the past and the future's new possibilities, Prochnik brings readers a nuanced meditation on the experience of exile.
Recent years have seen a resurgence of interest in Zweig, following the publication of Oliver Matuschek's seminal biography and more recently Wes Anderson's film The Grand Budapest Hotel, which is inspired by the life and works of Zweig.  Rather than following the well-trod ground of chronology and influence in Zweig's life and work, THE IMPOSSIBLE EXILE offers much-needed context: social, psychological, cultural, and political.  Prochnik also takes care to recover characters in Zweig's story who have been largely neglected until now, most notably Zweig's second wife Lotte and step-niece, Eva. These intriguing female characters add new depth to our understanding of Zweig's story—and imbue the trajectory of his tragic life with a new dimension of hope.
For Zweig acolytes, THE IMPOSSIBLE EXILE offers a fresh perspective on the historical moment of which Zweig was a part; for neophytes, it will serve as a compelling introduction to a complex and enduring literary figure.
George Prochnik's essays, poetry, and fiction have appeared in numerous journals. He taught English and American literature at Hebrew University in Jerusalem, is editor-at-large for Cabinet magazine, and is the author of In Pursuit of Silence: Listening for Meaning in a World of Noise and Putnam Camp: Sigmund Freud, James Jackson Putnam, and the Purpose of American Psychology. He lives in New York City.  Book trailer here:  https://vimeo.com/88091491
Drawing on archival and personal material, Prochnik examines the life of exiled Austrian writer Stefan Zweig  to shed light on the affliction of exile that redefined the lives and works of many intellectuals during WWII…this original and often ruminative study should find an appreciative audience.


Publishers Weekly

Stefan Zweig stands in for Europe's uprooted intellectuals in this elegiac portrait…intelligent, reflective and deeply sad portrait of a man tragically cut adrift by history.

Kirkus