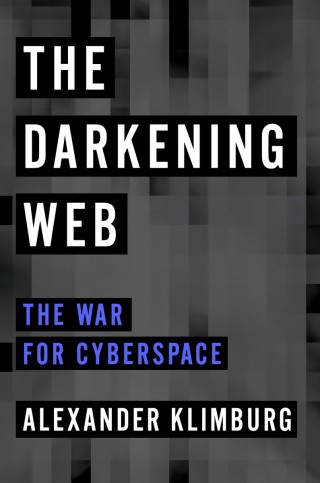 Download press release
The Darkening Web
The War for Cyberspace
Accusations of Russian interference in the U.S. Presidential election; reported American cyber sabotage of North Korean missiles; the recent ransomware attack that crippled corporations and institutions around the globe.  There can be little doubt that cybersecurity is a timely and significant concern.  But as Alexander Klimburg, a leading expert on cyberwarfare and Internet governance, makes clear in a chilling new book, the threats are greater—and potentially wider reaching—than we realize. THE DARKENING WEB: The War for Cyberspace (Penguin Press: July 11, 2017), is an eye-opening and urgent look at one of the most pressing but least understood conflicts the world will confront in the twenty-first century: the desire of nations to dominate cyberspace.
No single invention of the last half century has changed the way we live now as much as the Internet. Alexander Klimburg was a member of the generation for whom it was a utopian ideal turned reality: a place where ideas, information, and knowledge could be shared and new freedoms found and enjoyed. Two decades later, another future has come into view: increasingly, the Internet is used as a weapon by states eager to exploit or curtail global connectivity in order to further their national interests.
Klimburg, a program director at The Hague Centre for Strategic Studies, a nonresident senior fellow at the Atlantic Council, and an associate and former fellow at the Belfer Center of the Harvard Kennedy School, is a leading voice in the conversation on the implications of this dangerous shift.  In THE DARKENING WEB, he explains why we underestimate the consequences of states' ambitions to project power in cyberspace at our peril: not only have hacking and cyber operations fundamentally changed the nature of political conflict—ensnaring states in a struggle to maintain a precarious peace that could rapidly collapse into all-out war—but the rise of covert influencing and information warfare has enabled these same global powers to create and disseminate their own distorted versions of reality in which anything is possible. At stake are not only our personal data, the electrical grid, or critical public services but the Internet as we know it today—and with it the very existence of open and democratic societies.
Klimburg brings us face-to-face with the range of threats the struggle for cyberspace presents, from an apocalyptic scenario of debilitated civilian infrastructure to an erosion of privacy and freedom of expression. He also compares and contrasts the cyber policies and approaches of the United States, Russia and China, and explains why these differences are so significant.  THE DARKENING WEB brings home the fact that the battle for control of the Internet is as complex and perilous as the one surrounding nuclear weapons during the Cold War—and quite possibly as dangerous for humanity as a whole.
Thought-provoking and compellingly argued, THE DARKENING WEB makes clear that the debate about the different aspirations for cyberspace is nothing short of a war over our global values.
"Klimburg delivers an urgent warning that civil libertarians and cybernauts alike will want to heed."

Kirkus Reviews

"At a time of rising focus on threats to the internet, Alexander Klimburg introduces much needed clarity and precision into such concepts as cyber war and information security. This book is indispensable—not only for national security officials formulating policies on cyber conflict, cyber crime and cyber governance, but for any reader seeking a strong grounding in this critically important material and what it means for our global future."

Michael Chertoff, former U.S. Secretary of Homeland Security

"A dark but riveting account of how competition between nations threatens the future of the Internet. Klimburg provides a broad overview of the technical and political underpinnings of the Internet and reveals how many of them are being eroded by shortsightedness and national pride. A must-read."

Jeff Moss, founder of Black Hat and DEF CON conferences