Contact Becke for more information: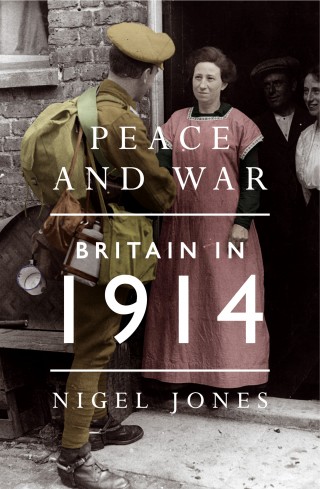 Peace and War
Britain in 1914
1914 dawned with Britain at peace, albeit troubled by faultlines within and threats without: Ireland trembled on the brink of civil war; suffragette agitation was assuming an ever more violent hue; and suspicions of Germany's ambitions bred a paranoia expressed in a rash of 'invasion scare' literature. When shots rang out in Sarajevo on 28 June, they set in train a tumble of diplomatic dominos that led to Britain declaring war on Germany on 4 August.
Nigel Jones portrays every facet of a year that changed Britain for ever. From gun-running in Ulster to an attack by suffragettes on a Velasquez painting in the National Gallery; from the launch of HMHS Britannic to the launch of the avant-garde magazine BLAST.  Jones traces the events of a momentous year from its benign domestic beginnings to its descent into the nightmare of European war.
Stylishly written, and illustrated by more than eighty gloriously evocative images of the period, Peace and War offers a memorable and moving portrait of a society and a nation on the brink.
In this book I have tried to present a picture of the nation as it was on the eve of war, concentrating on the figures and developments which historians – aided by the remarkable wisdom of hindsight – have deemed to be outstanding.  Like Dangerfield, I have given due weight to the major political and social issues of the year – the Ulster crisis, the suffragettes and the growing fears of European war – but I have also highlights some of the undercurrents that, little noticed at the time, have since come to characterise our view of that year from the perspective of the past century.  I have looked in some detail at the artists of the age – the poets, painters and sculptors –whose self-conscious modernism threatened to blow away the cosy certainties of an era already outmoded before the first guns of August had spoken and whose work foreshadowed and prophesised the disasters that lay in wait just around the corner.                                                                                                                                                                                                  What was it really like, the England of 1914?'