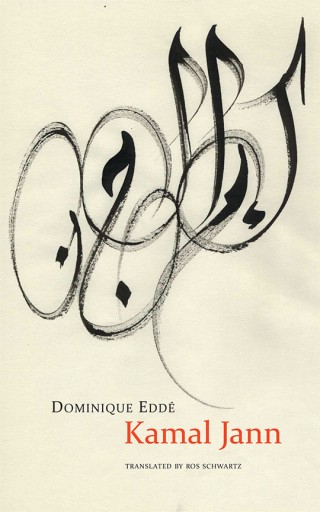 Kamal Jann
Translated from the French by Ros Schwartz
Winner of English PEN Promotes Award
In a world rife with deceit, the fortunes of the divided Jann family echo the conflicts tearing apart the Middle East, Syria in particular. Set in Damascus, New York, Beirut, Tel Aviv and Paris, Dominique Eddé's gripping novel contains elements of a Greek tragedy—fratricide, strong women, alliances and misalliances of all hues, damaged lives and impossible loves. Betrayal is everywhere—members of the doomed Jann family plot against one another while CIA chief Weiner dupes his own agent, Jonathan Red. Similarly, in the Saudi Ben Zad family, cousins are at loggerheads and the British agent in the pay of head of the Syrian intelligence defects to Mossad. Women too stop at nothing in pursuit of their own ends. The influence of La Bardolina, the fortune-teller, is rivaled only by that of the 90-year-old Sitt Soussou, while her daughter Riwaya plays her own dark game. This is a decaying world undermined by decades of abuse and corruption, against which the Arab peoples rose in the spring of 2011.
The New York–based Syrian lawyer Kamal Jann enters into a Faustian pact with the CIA in a desperate attempt to avenge his parents' murder and to save his brother, Murad. Beneath the charm and reserve of this quiet man lies a vein of madness—Jann, in Arabic, means to have gone mad. The time is that of urgency. It is the time of a collusion between an ancient past and a present sick of repeating itself and of the spread of blinkered Islamism. The space is that of the East fused with the West, mutually infiltrated and contaminated.
Written in a language that is raw, powerful and rich in imagery, Kamal Jann has been hailed by French critics as both universal and prophetic, a novel that is vital to our understanding of Syria and the Middle East.
DOMINIQUE EDDÉ WILL BE IN LONDON 15TH – 18TH October
A giant fresco of the Middle East, Dominique Eddé exposes today's Syria: captivating and tragic.

Le Canard Enchaîné

Kamal Jann shines a light on the unfathomable Syrian regime from within. With the brio of a thriller the novel portrays the devastated lives of the Middle East. 


Le Monde

A multilayered novel, alarmingly topical, both geopolitical thriller and Dostoyevskian tragedy – like an oriental version of the Brothers Karamazov.

Véronique Rossignol Livres Hebdo

Masterfully impressive.

Marie-Claire France

Superbly written, with a pen that displays precision, acute observation and a talent for sketching, without betraying the complexity of the thinking underpinning it. This powerful fresco exposes the relationship between power and family, between corruption and repression, shedding a new light on what we thought we knew about Syria and the Middle East. Georgia Makhlouf.

Le Huffington Post

The great Middle Eastern novel' proclaims the blurb which, for once, is no exaggeration. Kamal Jann, an ambitious book if ever there was – a sort of total novel. A saga that takes us from Damascus to Cairo, and from Beirut to New York on the trail of the Jann clan.

Renaud de Rochebrune Jeune Afrique

An allegory for a Middle East that is disoriented and fratricidal. Dominique Eddé has succeeded in creating a major spy film.

Mohammed Aïssaoui Le Figaro Littéraire

From Damascus to New York, via Jerusalem and Paris, she choreographs this ballet of violence and betrayals with a dizzying energy.

Anne Berthod La Vie

Dominique Eddé's writing has a dark, violent and intimate beauty. The narrative is precisely plotted and brilliantly handled. Part political thriller and part Greek tragedy, Kamal Jann depicts a corrupt Syrian regime in 'a grandiose portrayal of the degenerate organisation that governs the Middle East.

Benoit Laureau Quinzaine Littéraire