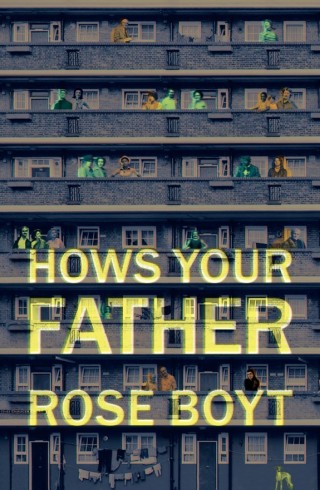 Hows Your Father
"I read it with sustained delight and admiration." – Francis Wyndham
HOWS YOUR FATHER tells the story of four generations of one Hackney family on a roller-coaster ride of drugs, violence, loss, infidelity and the redeeming joys of motherhood.
"Over the back of Kingsland Waste they pulled down that tower block my Tony used to live up there with some woman. In case you're thinking even before I come along it never did work out the two of them and her kids before I even set eyes on him he was back with his mum. All them homes to rubble and dust I never got that sick feeling no more down Queensbridge Road he was up there with that woman and kids like there was the big boom of the demolition and they was wiped out.
And my Tony just would not let me forget. Pestering me when he come home buzzing and skint after the kids was in bed all what he done to his self shouting and crying and shedding betting slips and little pens out of his pockets all over our home and the porcelain slipper with cherubs perched on the instep I displayed in the glass cabinet what he smashed off of Linda when she got them teak units and my carriage clock and school photos flew off of the walls I splashed out on quality board and frames what looked antique behind glass shattered in pointed shards on the floor because I was proud and it was worth it to keep up with my memories.
And a nearly new onyx ashtray on a stalk off of some bird in the pub for the front room where small things can go a long way to making your home when you ain't got fuck all.  But you are doing your best to make things nice what is the beginnings of something.  So you ain't ashamed the health visitor poking her nose in where you ain't got no home to speak of just big greasy marks on the bare walls how someone else was living life in Dunstan Court before you painted over it in pixie green what you found half a tin in a skip and was not a nice colour. To check my babies ain't wet or dirty or losing weight or bruised or burnt or cut if she would have them off of me quick as you like and you know that. What terrified me if I lost them however hard I tried in my home with my Tony was just as bad for me as you would feel if they took yourn.
Where the horse my mum insisted she could run to out of the insurance what she had a couple of grand coming to her once the agent done his paper-work and a groom in top hat and black gloves if we all chipped in for the cars to follow the coffin to the graveyard and black ribbons plaited in its mane gleaming the black leather harness and all that flared nostrils and flubbery mouthful of clanking metal and teeth jangling and steaming on the tarmac outside St. Anne's or even three grand at best the agent reckoned minus deductions what weren't a lot after a life-time how my mum insisted she don't want it said she never give the old man a good send off.
     In the fancy carriage with the cut glass panels they slid him with the flowers what was his last journey.  Where they all come out of the flats and watched it prancing down Hoxton you couldn't help yourself not to think where his life went now it was all gone.  And it hit me then, he weren't never coming back.  His greasy old chair over home and a few empties rolled under it my mum must of missed when she tidied up the front room and his baccy tin and his slippers all what was left. Where a part of me understood how the old woman decided to bury him in his blazer with the brass buttons and slacks she got cleaned special for the occasion and a new white shirt and black tie if it meant something to her to look his best in the coffin and the other part of me reckoned what a waste of good money. What happiness with my mum and drink and work and nine kids I thought was the saddest thing where he was too angry or what else was it. Too angry.
    But I had forgot if you lose somebody how it pains me in my chest and throat. I had forgot all that. But once it started I had to bury my face. Even my face hurt. My dad is dead. Not that he ain't never gonna be happy or any of that but just he went and that's what happens."
"Rose Boyt writes with a vivid physical immediacy that can take the breath away. She is an original, with her own strange magic."

The Independent

"Rose's book is a tour de force, a sustained piece of brilliant writing… harrowing, funny, heart-breaking and ultimately, despite its bleakness, a celebration of the human spirit."

Shena Mackay