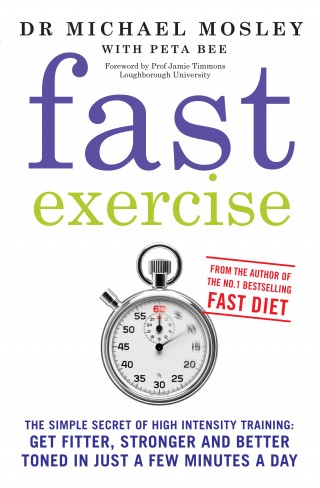 Fast Exercise
THE SMART ROUTE TO HEALTH AND FITNESS
Dr Michael Mosley Author of the No.1 bestseller The Fast Diet With Peta Bee
The simple secret of High Intensity Training: how just a few minutes a week can help you feel great and improve your health
Exercise is good for just about everything – you stay fitter, younger, and stronger. But how should you exercise? And how much?
It is now known that everyone responds differently to exercise. Depending on our DNA, we range from 'super-responders' (like Olympic athletes) to 'non-responders' (ever felt that you will never get really fit, however much you try?)
In Fast Exercise, Dr Mosley (technically a 'non-responder') and health journalist Peta Bee (our 'super-responder') explain how to improve the way you exercise – whatever your fitness level. Drawing on cutting edge research from sports science studies around the world, they show how high intensity training can be significantly more effective than long periods of low-impact exercise, and they offer a range of workouts, of varying intensity – there is something here for everyone.
As this fascinating book demonstrates, when it comes to exercise, less can be more.
Michael Mosley trained to be a doctor at the Royal Free Hospital in London, before becoming a science journalist and television presenter. He was named Medical Journalist of the Year by the British Medical Association.  He and his wife Clare, also a doctor, live with their four children in Buckinghamshire.
Peta Bee is an award winning journalist who writes regularly for The Times, Daily Mail and Sunday Times. She has degrees in sports science and nutrition and is a qualified running coach. Peta won the Medical Journalists' Associations Freelance of the Year in 2008 and 2012 and appears regularly on television and radio. Peta has published several books on health and fitness and lives with her family in Berkshire.
www.thefastdiet.co.uk                  @TheFastDietBook       www.facebook.com/thefastdiet.co.uk