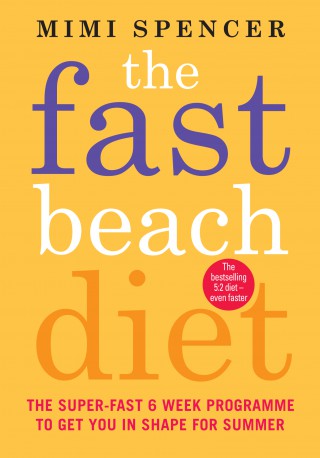 The Fast Beach Diet
From the author of the No.1 bestseller The Fast Diet  Mimi Spencer presents the super-fast 6-week programme to kickstart your Fast Diet for summer..
 Based on the original, bestselling Fast Diet, this modified approach will take you off cruise control and give your 5:2 lifestyle a summer-time turbo boost.
The Fast Beach Diet includes:
A clear six-week plan to encourage fat loss of up to 2lbs per week
New tips and tricks to get you through your Fast Days
Plateau-busting ideas to jumpstart the 5:2
A brilliant new HIT exercise programme to maximise your fitness and fat loss – in just five minutes a day
25 new calorie-counted summer recipes, and plenty of healthy speed cooking ideas for busy days
With detailed meal plans and extra motivational support, this book will get you beach-fit for 2014.  This is boot camp for the 5:2, an introductory 6 week programme for those new to the 5:2 diet, for lapsed Fast Dieters and those who just don't want to take on the long term version .
"The only diet you'll ever need." –Mail on Sunday
Mimi Spencer has written about body shape, diet and food trends in national newspapers and magazines for more than 20 years. She co-authored The Fast Diet (Short Books, 2013) with Dr Michael Mosley and wrote The Fast Diet Recipe Book and Fast Cook (Short Books, 2013). @mimispencer1 
Find out more:
www.thefastdiet.co.uk /@TheFastDietBook www.facebook.com/thefastdiet.co.uk