Contact Becke for more information: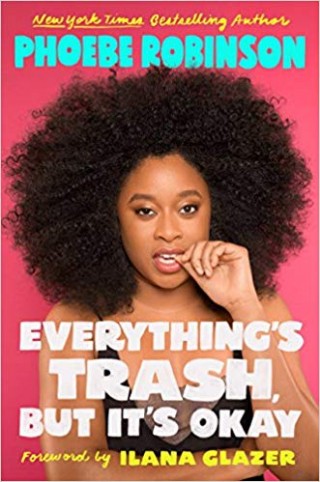 Download press release
Everything's Trash But It's Okay
2 Dope Queens star Phoebe Robinson is ready to share everything she's experienced in the hope that, if you can laugh at her topsy-turvy life, you can laugh at your own. Written in her trademark unfiltered, witty style, Robinson's latest essay collection is a call to arms. She tackles a wide range of topics, such as intersectional feminism, beauty standards, and toxic masculinity. A candid perspective for a generation that has had the rug pulled out from under it too many times to count.
"Phoebe Robinson brings her infectious charm and utterly delightful sense of humor to her second essay collection, Everything's Trash, But It's Okay. From body image to contemporary feminism to our culture of overwork, Robinson offers deft cultural criticism and hilarious personal anecdotes that will make readers laugh, cringe, and cry. Everything may indeed be trash but writing like this reminds us that we're gonna make it through all the terrible things with honesty, laughter, and faith."                                           

Roxane Gay, New York Times bestselling author

"Just when it feels like the world is falling irreparably apart, Phoebe Robinson is here to make things better. Whether she is unpacking the state of feminism or taking you through the dystopian world of online dating, she is manages to be on point, original, and laugh out loud funny. This vital, unflinching essay collection simultaneously calls out all the bullshit, especially facing women, while making you feel like things are *actually* okay. Even brighter than before, thanks to this hilarious bighearted book."

Gabrielle Union, New York Times bestselling author of We're Going to Need More Wine

"Delightfully recreates the experience of listening to Phoebe dish in person with the added bonus of getting see how words like 'relaysh' are spelled!"

Chris Hayes, New York Times bestselling author of A Colony in a Nation

"This collection is full of whip-smart commentary and extremely relatable trashiness. Phoebe has her own style, her own voice, and practically her own language that gets me every time. She has a way of making us all feel less alone and more bold. I dare you not to laugh your way through this book."

Abbi Jacobson, author of I Might Regret This

"Phoebe is brutally honest and hilarious. I proudly blurb this book without hesitation or remuneration!"

Judd Apatow