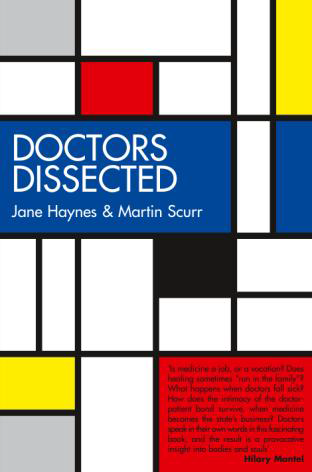 Doctors Dissected
'Doctors speak in their own words in this fascinating book, and the result is a provocative insight into bodies and souls' ~ HILARY MANTEL
A doctor inhabits a unique position – they see us at our most exposed, they are privy to our most intimate secrets and it is their judgement we must trust to keep us in good health. Doctors at their most profound are mercurial messengers between life and death, and who at a more comedic level must suffer our jiggling body parts. They are the only people other than our lovers to whom we (if unwillingly) grant voluntary access to our bodies and their orifices. But behind that 'white' mask, vulnerable and sometimes flawed men and women are struggling to make sense of their existence.
Through a series of candid and deeply personal interviews, psychotherapist Jane Haynes lifts the 'mask' and explores what draws someone to this vital profession. Central to the book are Dr Martin Scurr, a hugely experienced GP in his sixties, and his son Cosmo, who has recently qualified as a junior doctor. Around them – each with a dedicated chapter – other doctors, practitioners of all ages, both NHS and private, reflect on their lives. They explore their relationship with their own health and those around them. They discuss the restructuring of the job, how training, changing medical practices, new guidelines, shifting working hours and suffocating admin levels have all impacted – positively and negatively – on the doctor's relationship with the patient. And they consider their own, often complicated and tortuous journeys into this most fascinating of occupations.
This singular and timely 'storybook' is an absolutely mesmerising read that goes to the very heart of the existential and emotional phenomenon of choosing a career in medicine.
~
'This is a book that tells the story of the much-changed role of the GP, it delves into the themes that touch us all intimately in life and reveals the vulnerability of the doctors who have to deal daily with these dramas. It does so with such a narrative force and authenticity that it is impossible not to get drawn into these stories. This isn't a book that simply informs, it is a book that compels and – as it mirrors our deepest fears – touches us at the core'
NIGELLA LAWSON