Contact Becke for more information: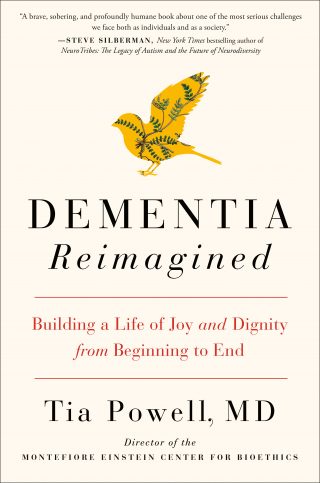 Download press release
Dementia Reimagined
Building a Life of Joy and Dignity from Beginning to End
A cultural and medical history of dementia by a leading US psychiatrist who urges us to turn our focus from cure to care.
Despite being a physician and a bioethicist, Tia Powell wasn't prepared to address the challenges she faced when her grandmother, and then her mother, were diagnosed with dementia – not to mention confronting the hard truth that her own odds aren't great.  With the statistics for those suffering with dementia ever-growing, Dr. Powell set out to move the conversation away from an exclusive focus on cure to a genuine appreciation of care – what we can do for those who have dementia, and how to keep life meaningful, even joyful.
DEMENTIA REIMAGINED is a moving combination of medicine and memoir, peeling back the untold history of dementia.  It moves from the story of Solomon Fuller, a black doctor whose research at the turn of the twentieth century anticipated important aspects of what we know about dementia today; to what has been gained and lost with the recent bonanza of funding for Alzheimer's at the expense of other forms of the disease.  In demystifying dementia, Dr. Powell helps us understand it with clearer eyes, from the point of view of both physician and caregiver.  Ultimately, she wants us all to know that dementia is not only about loss – it's also about the preservation of dignity and hope.
"Dementia is the defining disease of our era. Powell invites us to imagine a brighter way forward. Dementia Reimagined succeeds on many levels–it is informative and insightful, historically illuminating, scientifically accurate, socially savvy and so well written. The result is utterly engaging."

Ira Byock, MD, Founder & Chief Medical Director, Institute for Human Caring, Providence St. Joseph Health

"With candour and humour, Tia Powell examines all aspects of dementia: its history, treatment, and most importantly, how to care for people as they struggle to maintain dignity and autonomy. I recommend this book to anyone with a family or friend with dementia."

Laurie G. Jacobs, MD, President, American Geriatrics Society and Chair of Medicine at Hackensack Meridian School of Medicine at Seton Hall

"Essential reading for anyone who cares for or about a person with dementia, treats a person with dementia, or is concerned about their own risk of dementia. Powell skilfully traces the sometimes surprising, often tragic, history of this disease and explains the current state of science and medicine and how they interact with advocacy and public policy. This book gives us a vision for what a meaningful life with dementia can look like."

Carol Levine, Director, Families and Health Care Project, United Hospital Fund; author of Navigating Your Later Years for Dummies

"For all us baby boomers and our children joking about senior moments, it turns out that a lot of people living with dementia are actually having a hell of a good time. Read this book. Accepting what is and making the best of it requires a little planning, but the payoff in joy in the moment is huge."

Diane E. Meier, MD, Director, Centre to Advance Palliative Care