Contact Becke for more information: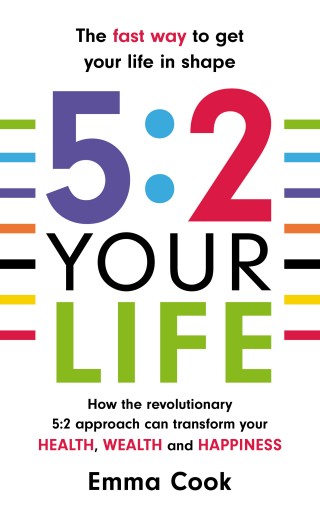 5:2 Your Life
HOW THE REVOLUTIONARY 5:2 APPROACH CAN TRANSFORM YOUR HEALTH, WEALTH AND HAPPINESS
The fast way to get your life in shape 
Everyone understands the premise of 5:2 – that it's not about deprivation, it's about enjoying whatever you want just not all of the time.  A technique that doesn't overtax your willpower, the 5:2 ratio can help put us back in touch with every aspect of our lives.  Author and commissioning editor Emma Cook shows how to achieve a better, healthier balance in life, physically and emotionally.
5:2 Your Life is an easy-to-follow guide to how the revolutionary principles of the 5:2 diet can be applied to key areas of your life including: Fitness, Drinking, Money, Worry, Productivity, Relationships, Screen Time and Technology, Environment.
As with the diet, the 5:2 Your Life philosophy isn't extreme. You choose the area of your life you'd like to change, turn to that chapter and try to focus on that area for just two days each week with the help of the seven-step plan provided.  You can move at a pace that suits you, whether it's going offline, spending less money, cutting your alcohol units, working more productively, exercising more or helping the environment.
Talking to many specialists whilst writing the book, Emma Cook found that without exception, all the experts – in the areas of psychology and psychotherapy, fitness, culture, productivity, environment, finance, drink, technology, relationships and worry – have embraced this ratio.
No complicated rules
Clear and flexible strategy
7-step plan
Specialist advice throughout
Advice and testimonies from people who've tried it
Be HEALTHIER, WEALTHIER and HAPPIER with 5:2 YOUR LIFE