Contact Sue for more information: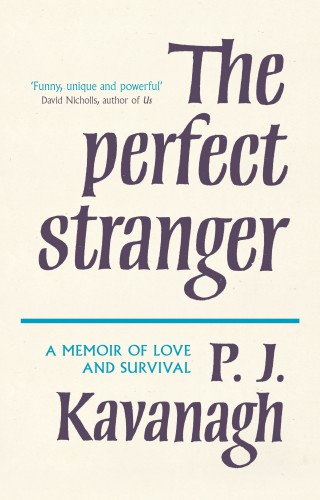 Download press release
The Perfect Stranger
A MEMOIR OF LOVE AND SURVIVAL
'A fine memorial to youth and love – perhaps to the youth and love of all our generation'  MICHAEL FRAYN
First published in 1966, The Perfect Stranger is a uniquely male examination of deep, all-consuming love. It is also the story of a young man's passage into adulthood, and with it, the search for a sense of 'arrival' that goes hand in hand with youth.
We follow the adventures and incarnations of a young man as he journeys from the austere conditions of 1940s boarding school to the tomfoolery of the Redcoats at Butlins; from colourful sojourns across Europe to life as a serving soldier in Korea; then finally and joyfully to a settled life in academia and poetry. But most powerful of all is his emotional life as a lover and husband, and his intense, tragic relationship with a girl called Sally Lehmann.
Acutely observed and unsentimental, Kavanagh captures the intoxicating, obsessive and almost otherworldly nature of love with a brutal, unnerving honesty. It's an extraordinarily raw and masculine depiction of how a man is capable of giving himself utterly a woman.
Admirers of the The Perfect Stranger include Michael Frayn, Richard Ingrams and David Nicholls. It was hailed by critics on publication as an instant classic which utterly re-invented the memoir genre.
'I've re-read The Perfect Stranger many times and still think it, though unique, a model "of its kind" ' DEREK MAHON